After 35 years, El Retorno de Los Tres Reyes, marks the historical return of the legendary trio, Los Tres Reyes, to the international world of Spanish romantic music. Reintroduced to the new millennium by Abraham Quintanilla, Los Tres Reyes' new album tastefully blends their world famous sound and flavor into a fresh new production that is sophisticated and full of life.

Originally founded by the Puente brothers and later joined by the late Hernando Aviles of Trio Los Panchos, Los Tres Reyes played an essential role in the development of the Golden Age of Spanish romantic music throughout the 1950's and 1960's. Now, the trio prepares once again to bring forth to the world their unique style of music.

El Retorno de Los Tres Reyes kicks off a new era in Spanish romantic music. Join Los Tres Reyes as they unite the sensuality of the past with the energy of the present. Be a part of this romantic new world. Look for their new CD at your favorite music store, today!
Discography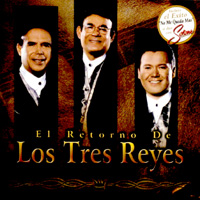 El Retorno de los Tres Reyes

1. No Me Queda Más
2. La Revancha
3. Amor Perfecto
4. Como Un Bolero
5. El Camino De La Vida
6. Perdoname Conciencia
7. Recuerdo a Los panchos
(Contigo - Caminemos - No Me Quieras Tanto - Los Dos)
8.Por Si Acaso Me Recuerdas
9. Borra, Deja, Piensa (Risque)
10. Yo Tengo Una Novia
11. Mujeres Divinas
12. Triangulo
13 No Me Queda Más (A duo con Selena)
Videography
NO ME QUEDA MÁS