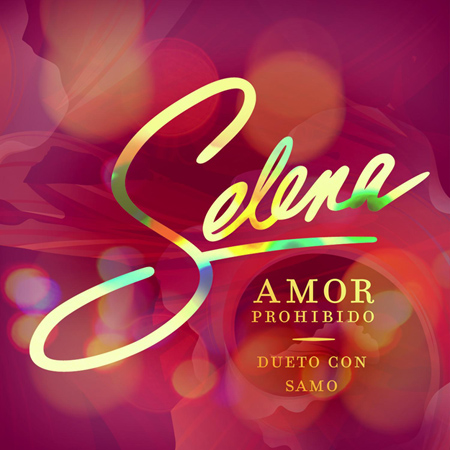 PRESS RELEASE
Selena's 'Amor Prohibido' returns to radio tomorrow
The heartwarming duet, with Mexican singer Samo, embodies the musical evolution of the original classic
The song is the first single from a new album, Enamorada de Ti, in stores on April 3rd
Miami, FL (February 8, 2012) – In celebration of Selena's legacy, Capitol Latin announces the release of Enamorada de Ti, an extraordinary new album from the superstar featuring collaborations with some of today's hottest artists and showing how Selena would sound today.
With contemporary arrangements and new sounds, Enamorada de Ti comes to light with the first single 'Amor Prohibido', a duet with Mexican vocalist Samo, which within its subtle chords, revives one of the biggest hits of the superstar.
Enamorada de Ti also includes unique collaboratins with Cristian Castro, Don Omar, Selena Gómez and Juan Magán, introducing Selena's classics to a brand new generation of fans.
Today, Selena Quintanilla continues immortalized through her music, which continues to top the charts all over the globe. Her accomplishments are still admired by both fans and renowned musicians worldwide. Among the most outstanding achievements include, being named 'Top Latin Artist of the 90s' and "Best selling Latin Artist of the Decade" by Billboard for having 14 songs in the Top 10 Latin Songs chart, including seven number one hits. In 1995, Selena made history by becoming the first artist to simultaneously place five Spanish releases in the Billboard Top 200 Albums chart.
Enamorada de Ti will be available on April 3rd.
--------------------------------------------------------------(SPANISH)--------------------------------------------------------------
Amor Prohibido de Selena regresa hoy a la radio
Un asombroso dueto, junto al cantante Mexicano Samo, que presenta la evolución musical que la reina de la música ha dejado como legado
El tema es el primer sencillo de Enamorada de Ti, su nuevo álbum, a la venta el 3 de abril
MIAMI, FL (8 de febrero, 2012) – Para celebrar la perpetuidad musical de Selena, Capitol Latin anuncia el lanzamiento de Enamorada de Ti, un extraordinario nuevo álbum en el que participan algunos de los artistas más conocidos de la industria de la música y que representa cómo Selena se escucharía hoy en día.
Con arreglos contemporáneos y nuevos sonidos, Enamorada de Ti sale a la luz hoy con el primer sencillo 'Amor prohibido', un dueto junto al cantante mexicano Samo, en el que dentro de los sutiles acordes revive uno de los más grandes éxitos de la superestrella.
El disco también incluye inigualables colaboraciones con Cristian Castro, Don Omar, Selena Gómez y Juan Magán.
Hoy por hoy, Selena Quintanilla continúa inmortalizada a través de su música que sigue encabezando los charts en todo el mundo. Sus logros siguen siendo admirados tanto por fanáticos como por músicos de reconocimiento mundial. Entre los más destacados está su nombramiento como 'Mejor Artista Latino de los Años 90' y 'Artista Latino de Mayor Venta de la Década' por la revista Billboard tras posicionarse en catorce ocasiones en la cartelera Top 10 Latin Songs, incluyendo siete números uno. En 1995, Selena hizo historia al convertirse en el primer artista en colocar simultáneamente, cinco álbumes en español en el Top 200 Albums de Billboard.
Enamorada de Ti estará disponible a partir del 3 de abril.